Lesson 10: Commercial Locksmithing - Part 2
High Security Locks
High security locks meet or exceed the requirements for commercial grading with the added feature of access control. High security locks offer the highest level of security. Side bars create an additional sheer line in the lock while angled pins need to be lifted and rotated into the right position. This makes them nearly unpickable. High security locks work with exclusive keyways. With a high security lock, each customer has their own unique keyway. Blank keys must be bought directly from a locksmith and that locksmith must order them directly from a distributor. High-security keys are so precise that they cannot be duplicated; they must be generated on a code machine. High security locks are made out of hardened steel. This makes them resistant to drilling. The most common high security locks are Schlage primus, Medico, and Assa.
Medico high security cylinders have drill resistant pins and housing. This makes them very difficult to drill through. Keys are cut using a Medeco specific key machine which uses angular cuts. The bottom pins are angular to match the keys. When the key is inserted, it rotates the pins as it lifts them to clear the sheer line. The lift and rotate motion required to clear the sheer line makes these locks very difficult to pick.
This picture shows the difference between a Medeco high security mortise cylinder and a regular mortise cylinder. Note that high security cylinders come in both mortise and non-mortise form.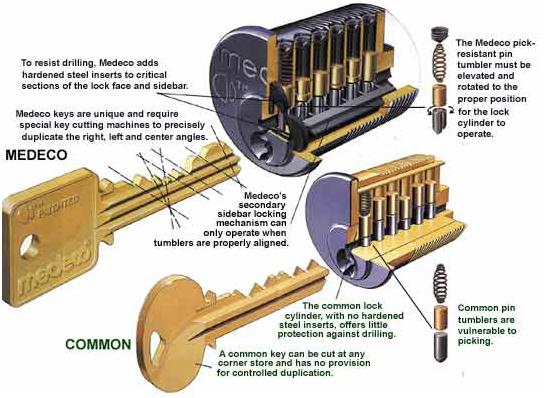 The Schlage Primus high security cylinders have drill resistant pins and housing. This makes them very difficult to drill through. The keys have a second set of cuts on the side which creates a second sheer line with the side bar. These keys are exclusive, which means that each customer will receive their own unique keyway. The side cuts are unique to this keyway. Keys need to be ordered in the specific keyway, directly from a distributor but after that they can be cut like a normal Schlage key. The sidebar and forger pins determine the second sheer line. The forger pins are loaded into the bottom of the core and the sidebar holds them in place from the side of the core. The sidebar is held in place by the sidebar springs and cylinder housing. When the key is inserted it clears the sheer line for both the top pins and the side bar. When you are rekeying these locks, hold your thumb over the side bar as you move the core to prevent the forger pins and forger pin springs from popping out of place. Assa high security cylinders use a sidebar to create a second sheer line in the same way.