Lesson 10: Commercial Locksmithing - Part 4
Panic Hardware
Panic Hardware is a lock fitted with a long bar placed horizontally across the inside of a door. Pressure on the bar releases the lock. Used in theaters, schools, and other public buildings, panic hardware is designed for accessibility during emergency situations. Panic hardware is often required by federal OSHA (Occupational Safety and Health Administration), and municipal code in the United States for situations involving means of egress for those entities complying with the National Fire Protection Association's (NFPA 101) Life Safety Code, as well as with the National Electrical Code (NFPA 70) requirements. Additionally, some municipalities require this hardware when occupancy is considered 'hazardous', as in the case of chemical storage facilities. Panic hardware is required for workplace access and public access buildings respectively.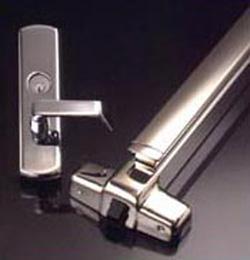 Panic hardware consists of two parts. The front of the device is a faceplate and mortise cylinder. The back of the panic hardware is a bar and latch. The bar is spring mounted and draws the latch when it is depressed. The tailpiece on the cylinder engages the latch when the key is turned. Panic hardware offers external security and internal emergency safety.
To rekey panic hardware you need to extract the cylinder. To remove the cylinder you need to remove the bar and unscrew the retainer bolts. Remove the screws on the housing of each end of the bar and then remove the housing. Beneath the housing you should find several retainer bolts. These bolts are holding the panic bar onto the door. Remove these bolts and take the bar off of the door. Now you should see the mortise cylinder retainer bolts and the back of the mortise cylinder. Remove the bolts to extract the cylinder from its faceplate. You might need c-ring pliers to remove the cylinder from the housing.
To reassemble the panic hardware put the cylinder back in the faceplate and reattach the c-ring if necessary. Thread the mortise cylinder retainer bolts to reattach the mortise cylinder and faceplate to the door. Hold the panic bar on the door as you thread on the panic bar retainer bolts. Reattach the housing on the latch and end of the panic bar and thread in the housing screws. Now test everything to make sure it works.
Servicing panic hardware can be a big hassle, but once you become comfortable working with panic hardware you will be able to draw in a lot of commercial businesses that will bring you reoccurring revenue. Additionally, many times you will be called out to a rekey job only to find out that the cylinder is mounted in panic hardware. Being comfortable working with panic hardware is a necessity to becoming a successful locksmith.